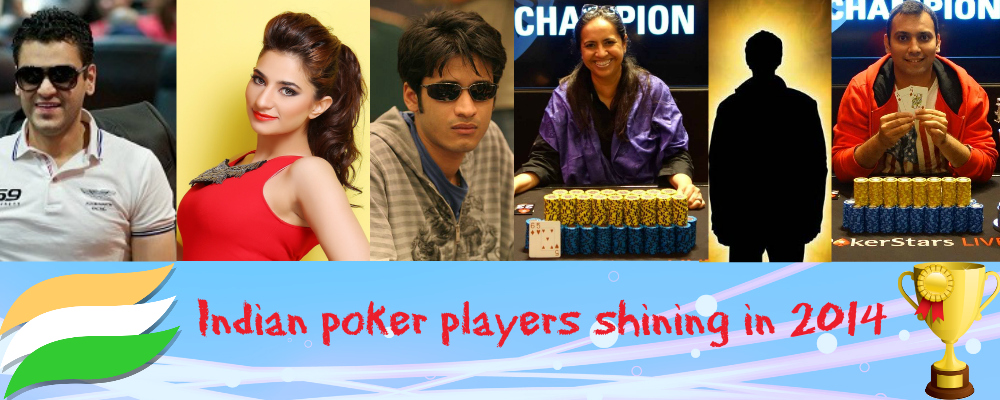 2014 has undoubtedly been the best year in recent times for Indian Poker players in terms of performance and wins. Be it online or the live tournaments, Indians have proved their mettle on every turf winning huge cash prizes and trophies as well. From Las Vegas, the casino capital of the World to Macau, the eastern shores of Asia, Indian poker pros have left their imprints across the globe. To the great pride, Indian women have shown tremendous dexterity on the poker felt this year cashing fair amounts and clinching titles too.
Though it not easy to sum up the feat which Indian poker players achieved in 2014 in mere words, we can surely run down our memory lane and cherish those wonderful moments. We present top 5 poker moments of 2014 in a chronological list of events which made India Proud and will be remembered for long in the Indian poker community.
Akash Malik finishing 5th in Red Dragon event of Macau Poker Cup
Akash Malik played in a brilliant way on the final table of Red Dragon event in the 20th edition of Macau Poker Cup and finished in 5th place taking home $430,000. Coming in January, this proved to be the dawn of big wins for Indian players in 2014. In the same tournament, Akash finished 5th again in the Team event adding more to his bag.
Danish Shaikh taking 2nd in the PokerStars TCOOP Main Event 
The young India came shining early this year when Danish Sheikh had two brilliant wins at PokerStars. He followed up his 3rd place finish at  the PokerStars Sunday Warm up for $70,039 to take the 2nd place in the PokerStars TCOOP Main Event for $245,835. One of the proudest moment for all Indian online poker players in 2014, that set a new benchmark for online performances.
Aditya Agarwal finishing 16th  in Event 44 of the 2014 WSOP
In WSOP 2014, Aditya Agarwal gave a moment to cheer to Indian poker lovers by cashing in two different events of WSOP in Las Vegas. Playing his natural way, he finished 76th and 80th in the Event 31 and Event 39 respectively. But it was Event 44, $1,500 buy in NLHE where he finished 16th and even lead the event in parts stood out.
Muskan Sethi cashing in WSOP event in Las Vegas
Muskan played against some of the best poker players in Event 55 of 2014 World Series of Poker (WSOP) and finished 55th cashing $7,827. She is the only Indian woman to play at World Series of Poker (WSOP) twice and finishing in money in the 2nd outing made it even bigger feat. She has gained a progressive graph in just three years of her career as a professional poker player. This poker beauty also featured on PokerStars Shark Cage series this year where she played against poker pros like Jason Mercier and Liv Boeree.
Kunal Patni and Anju Abrol claiming double spadie at ACOP
First, Kunal Patni clinched the opening event title of 2014 Asia Championship of Poker (ACOP) with HK$176,000 and the following day, Anju Abrol won the spadie with HK$401,400 in the 2nd event. This gave a tremendous initial momentum to Team India in the tournament which Kunal, Anju and other players continued till the last event cashing fair amounts. Anju became the second only woman to win the ACOP spadie after Celina Lin. This was a huge moment to cheer for Indian poker fraternity.
Kingplayer19 finishing 2nd in PokerStars Sunday Million
How could one forget this? The mystery man, kingplayer19 won $128,261 vying against thousands of online poker pros in Sunday Million this October. Although this Indian poker player is yet to reveal his identity, his massive win has certainly inspired the online grinders. He proved that with a firm determination and a curated strategy, anybody can win at online poker. It was a remarkable moment for Indian poker players who burn their midnight oil to win in online tournaments across the year.