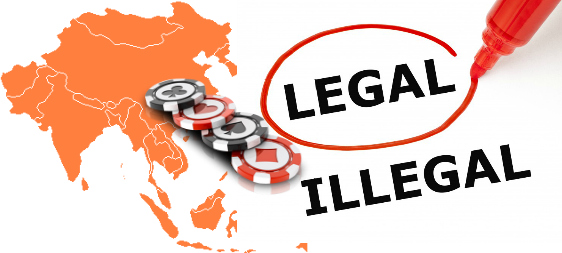 The legality of poker in live as well as online form has been an endless topic of discussion in Asia pacific region for decades. None of the country had set clear rules governing this booming market neither they had precise regulating bodies for this sector. In recent years, a few Asian countries have tried to revamp the laws and fabricate a framework to regulate this market. OPN India revisits the pages of law books of these Asian countries in our exclusive column – Legal Corridors of Asia to draw a clear picture of legality of poker.
Singapore, an island country in Southeast Asia is home to a lot of poker talents like Diwei Huang 'Bryan', Feng Zhao and Chris Chong but the poker market has been unregulated since long here. Amidst a flamboyant gambling culture flourished across the casinos in this country, poker was missed out. It could be better understood from the fact that the country got its first ever legal poker room in 2012. The main reason behind it could be traced back to the gaming and gambling laws which were obscure for decades in this country.
Old gambling laws
Singapore had two main gambling laws which are still in-force – the Common Gaming Houses Act and the Betting Act. According to these two laws, no private company or individual could run any land-based or online betting games, sports betting or even betting on horse-racing. The government-run Singapore Pools offered lottery games, sweepstakes etc and later permitted betting on football and Formula One events.
Casinos and poker rooms
Casino lovers of Singapore got to play for the first time at a legal casino in 2006 when the government enforced Casino Control Act. Prior to that, a small casino set-up was open only to the visiting tourists at Changi International Airport. The new law permitted 2 casinos – Resorts World and Marina Bay Sands to be established and open to the citizens of the country. It is noteworthy that, there was no law differentiating the operation of luck-based games like roulette and skill-based games like poker.
Apart from home poker games, no legally organized poker game ran in the country till 2012 when Resorts World Sentosa opened a 7-table poker room – Poker World. However, online poker sites kept operating in the country in gray area. There was no clear law regulating the online poker tournaments which required conversion of Singapore Dollar (SGD) to other foreign currencies which was carried out through e-wallets and used on global sites like PokerStars.
Remote Gambling Act
In October 2014, the government of Singapore passed the Remote Gambling Act to regulate the online gambling market in the country. With this law in force, it is now considered illegal to play casino games, poker or sports betting on the internet. The authority asked all the internet service providing companies in the country to ban online poker, casino games and sports betting sites in the implementation phase of this act. Moreover, all banks were directed to monitor and block fund transfer to and from all such sites and advertisement of online gambling including online poker was declared illegal in the country.
However, Singapore-based online gaming companies were exempted under special surveillance. That means, any company registered in Singapore can apply for running online gambling services and they will be permitted based on the their track record, contribution to social cause and several other parameters. To the dismay of Singaporean poker lovers, these companies will also be restricted offering online poker and casino games.
Future of poker in Singapore
Following a total blackout at the online felt, poker players in Singapore are left with two choices only – play cash games at home and at the only poker room at Resort World or travel to other poker destinations. Macau being the nearest poker hub will see a rise in Singaporean attendance in coming days. While the professionals will fly to other Asian poker destinations as well as make appearance in the global poker tournaments in Europe, America or Australia, the new generation will have to wait until the authorities differentiate poker as a game of skill from other gambling activities and allow online poker sites to re-launch.
Stay tuned to all OPN India updates on social media outlets – Facebook, Twitter, Google+.