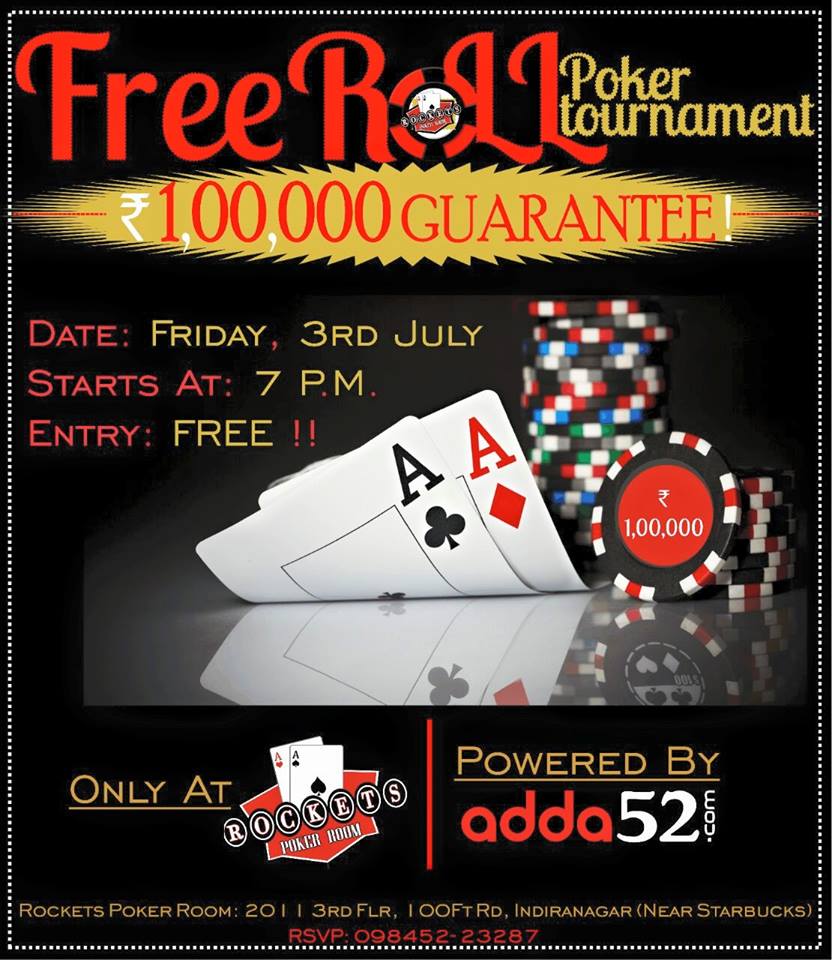 What Friday is for everyone, Freeroll tournament is for poker players. But, when a prize pool of Rs 1 Lac goes up for grab on a Friday, the poker bash hits the top amplitude. That's what the Rockets Poker Room is calling for on 3rd July in Bangalore. So, get ready to join the biggest Freeroll fiesta in the city powered by Adda52.
The Rockets Poker Room will be open to all poker enthusiasts on 3rd July for a Freeroll tournament starting 7 PM. The special event powered by Adda52, India's largest poker site brings the one of the biggest prize pool in a Freeroll tournament in Bangalore. Rockets Poker Room owned and operated by Mr. Praveen Dwarkanath is the biggest poker joint of Bangalore with over 10 tables ready to accommodate 100+ players for any event. This makes it the best place in the city to host a grand poker night open to all grinders to walk in and take home prizes for free. All you require is your poker skills to beat the opponents and clinch the jackpot.
Adda52, the pioneer of online poker industry in India has covered all corners in its endeavors to promote this game of skill in the country. The company has been organizing online tournaments with the biggest guaranteed prize pool in the country since its inception in 2011. Time and again, Adda52 has reached among the brightest minds and the best poker talents of the country with its exceptional promotions and Freeroll games. The company has also sponsored several live events in Bangalore in last 2 years rewarding the winners with hefty prize amounts.
So, get ready to experience a splendid evening today as all roads in Bangalore lead to the Rockets Poker Room, 100ft road, Indiranagar. Moreover, you can win from the prize pool of Rs 1 Lac in the Freeroll tournament powered by Adda52.