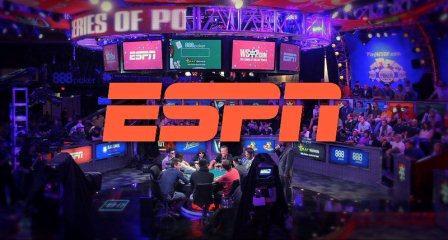 All the excitement of 2015 WSOP is coming soon on your TV as ESPN is set to telecast the weekly episodes in August. The WSOP coverage will begin with the highlights of recently concluded WSOP National Championship. Two hour-long episodes of WSOP National Championship will be aired on 18th August.
The live coverage of November Nine has been the highlight of ESPN's yearly poker telecast. The Final Table of 2015 WSOP will be aired live (slight delay on hole cards) from 8th to 10th of November. Unlike previous few years, the final table will run for 3 days this November. On the first day (Nov 8), the top 9 players will play down to top 4. On 2nd day, the game will resume with 4 players and pause when heads up is reached. 10th November will see reaming 2 players vying for the Main Event bracelet. The live commentary of the final table will again see Lon McEachern and Norman Chad on the ESPN commentator panel.
There is a break of over 3 weeks after WSOP National Championship episodes on ESPN. Starting 14th September, hour-long episodes of 2015 WSOP will be aired at 8PM for 3 weeks in a row on AirWaves. On 4th October, the WSOP coverage will be featured on ESPN's flagship channel at 8:30 PM with each episode of 2.5 hrs.
The world poker community will also get to see Daniel Negreanu's run which sadly ended in 11th position in the Main Event. The Canadian pro played most of time in the main event on the ESPN featured table.
Here is the list of episodes to be aired:
| | | |
| --- | --- | --- |
| Date | Time | Episode |
| Aug 18 | 9:00-11:00 PM ET | WSOP National Championship |
| Sep 14 | 8:00-10:00 PM ET | WSOP Main Event Championship |
| Sep 21 | 8:00-10:00 PM ET | WSOP Main Event Championship |
| Sep 28 | 9:00-11:00 PM ET | WSOP Main Event Championship |
| Oct 04 | 8:30-11:00 PM ET | WSOP Main Event Championship |
| Oct 11 | 8:30-11:00 PM ET | WSOP Main Event Championship |
| Oct 18 | 8:30-11:00 PM ET | WSOP Main Event Championship |
| Oct 25 | 8:30-11:00 PM ET | WSOP Main Event Championship |
| Nov 01 | 8:30-11:00 PM ET | WSOP Main Event Championship |
| Nov 08 | 8:30 PM ET | WSOP Main Event Championship Final Table (LIVE) |
| Nov 09 | 8:30 PM ET | WSOP Main Event Championship Final Table (LIVE) |
| Nov 10 | 8:30 PM ET | WSOP Main Event Championship Final Table (LIVE) |