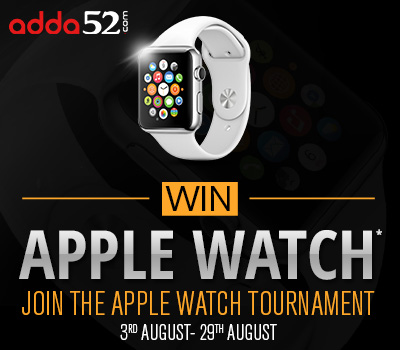 A pioneer in the field of Online Poker, Adda52 has always offered unrivaled poker promotions. With innovative promotions running throughout the year, the site can be credited with giving away huge prizes like iPhone 6+, iPad, and millions in cash to the winners. This festive season India's leading poker site Adda52.com is getting luxury things rolling forward with its new tourney that offers online poker players an opportunity to own an opulent Apple Watch. Surprised! Yes, now you can possess the exquisite Apple Watch, and all you need to do is play poker at Adda52.com.
Have you ever dreamt that someday you will own a gadget that can be worn and keeps a track of every thing that is related to you? A gadget that touches your skin, allows you to connect with people, gives you complete picture of your all-day physical activity, acts like your wallet and does many more things. Then, there's no better time than right now to earn the luxurious timepiece from Apple. Participate in the Apple Watch Tourney satellites from 3rd August to 29th August daily at 3 PM and get your hands on this swanky watch before someone else does!
After iPhone, this is the biggest poker giveaway ever by India's largest poker site. Hurry; don't miss this opportunity! Join Apple Watch Tourney to get your hands on the first-ever gadget designed to be worn. Login now to play Apple Watch satellites and win direct entry to the Apple Watch Finale. Buy-In for this tourney just starts from as low as Rs. 75. All those who deposit Rs. 200 in their adda52.com account can use the bonus code- AWATCH and get entry to the satellite.
It is for the first time that Apple Inc. has launched a splendid watch with revolutionary new technologies and a pioneering user interface thereby honoring the rich tradition of precision watchmaking. It is also learnt that a Poker HUD and other poker related apps are being worked on for the Apple Watch. So grab it now before it enters the Indian market and flaunt it on the poker tables.
If you want to experience innovation in every interaction you make, Go Play Adda52.com's "Apple Watch Tourney" to experience the inexperienced! Still waiting for that great hand you have been hoping to score? Don't hold-up! Dive in and showcase your poker skills in the Apple Watch Tournament by Adda52.com.
Tournament Details-
TOURNAMENT
DATE/TIME
ENTRY CRITERIA
PRIZES
Apple Watch Satellites
3rd Aug – 29th Aug @ 3:00PM
Rs.75
or
Ticket- APPLEWATCHTKT
Finale Entry Ticket – WATCHFINALETKT
Apple Watch Finale
29th Aug @ 10PM
Rs.750
or
Ticket-WATCHFINALETKT
Apple Watch