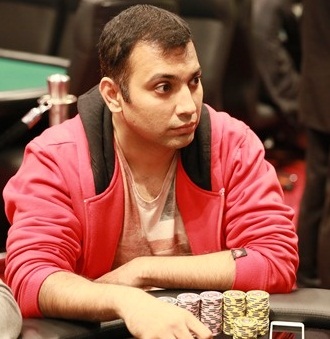 The Day 2 of 2015 APT Finale Main Event is in the books with 22 players out of 71 surviving for the Day 3 action. Filipino pro Andrew Gaw rose up to the top amassing 410,500 chips by the end of day's play. Adda52 Team Spades pro Kunal Patni kept the Indian hopes high by ending the day with 190,500 chips which ranks him 5th in the Day 2 Chip Count. Another Indian surviving the Day 2 battle was Paawan Bansal a stack of 67,000.
Latest Update – Day 3 action started today at the APT Poker Room, Manila and Paawan's tournament run came to an end a few spots below the money. In his last hand, Paawan Bansal was all in with around 50k, Jun Saito followed suit with more chips, and it was Saito with A♦K♣ and Bansal with K♠ J♦. The board bricked and Paawan was eliminated. After the elimination of William Kang, all 18 players are now in the money.
Day 2 started with Arunas Sapitavicius in chip lead but he failed to capitalize and got eliminated. Some of the recognized players who got eliminated on Day 2 were the APT Asian Series Cebu 2015 main event champion John Tech, Korea's Sim Jae Kyung, Japan's Azusa Maeda and Kosei Ichinose, and Canada's Linh Tran. Iori Yogo who sits in the 2nd position on APT Player of the Year leaderboard also got eliminated on Day 2. In his last hand, Iogo moved all in on top of Giam's raise and after getting a count, Giam called. Yogo had A♠ K♣ while Giam had 10♣ 10♠ and Yogo couldn't find any help from the community.
Kunal Patni went through several ups & downs on Day 2 but in the end he had a healthy stack to resume on Day 3. Kunal doubled up in a hand against Ying Lim Chua just 30 minutes before the day's play was stopped. Ying Lim Chua was all in preflop and Kunal Patni did the same. Chua had A♣ 9♣ and Patni had A♦ K♠. The board ran 6♥ 10♠ K♦ 8♦ K♠ and Patni doubled up. In another hand which rocketed Kunal's stack, Daniel Lim went all-in for 60k after a raise of Guofu Chen followed by Kunal with a 90k shove. At the showdown, Lim had ace-seven and Kunal had pocket queens. Kunal's ladies triumphed the hand as Lim didn't improve on board.
Today the Main Event will be played down to the Final Table of 8 players and the FT battle will resume on Wednesday, 16th December.
In the side events played at 2015 APT Finale on Monday, Philippines' Jeorge Lagatuz won the Deep Stack Turbo event sponsored by WeLoveSport. Team Thrill pro Dhaval Mudgal joined the PLO event and lasted till 16th place.
Playing the Omaha event today for some laughs! Hopefully the start of a beautiful relationship! @Thrill_India

— Dhaval Mudgal (@Dirtbagpoker) December 14, 2015
4 and a half hours later and we are still in!! @Thrill_India

— Dhaval Mudgal (@Dirtbagpoker) December 14, 2015
Busto 16th. 9 ITM

— Dhaval Mudgal (@Dirtbagpoker) December 14, 2015