After a record-breaking success of the recent WPT India, Deltin Royale – India's largest and most luxurious casino is now gearing up for an exciting edition of the Deltin Poker Tournament (DPT). The month of February 2019 will see the return of the premier poker tournament series powered by Adda52.com. The series is set to begin on 7th February and to run all the way till 11th February 2019.
Launched in January 2016, DPT is one of the most-loved poker events in India. Going from strength to strength, the popular event promises something for everyone. It has been consistently growing in terms of turnouts and has time and again broken its own turnout records over the past years.
The last edition of the DPT took place in July 2018 at its regular host venue – Deltin Roylale, Goa. It saw impressive turnouts and found winners in Jasven Saigal (15K Deep Dive), Eka Vedantham (65K High Roller), Awnish Singh (35K Main Event) and Abhishek Tibrewal (15K Bounty Event).
DPT February 2019 Edition Comes With Sweet Changes!
To the delight of poker players, the schedule for the February 2019 edition of the DPT has been released. The event will cater to a wider poker audience with a total of 5 exciting poker tournaments on its schedule, namely the opening event – 15K Deep Dive NLH ( 2RE / 9 Max), 3 Seat GTD Main Event Satty (9 Max), Adda52 High Roller 65K (1 RE / 8 Max ), 35K Main Event and 15K Bounty (1 RE).
The new schedule brings some sweet changes to optimize its already existing robust structure and to provide a better experience for players. "DPT February brings a few welcome changes to optimize the already existing robust structure. The 15k Deep Dive start time has been delayed by an hour to 6.00 PM, post the feedback from players at the August 18 Edition.The high roller late registration has been extended till level 12 Day 2 and the Day 1C flight is now a Turbo flight with 25 Min Levels. Additionally we will be streaming the FT of the Deep Dive so we will be streaming 3 events for this entire season. The bounty has a R/E, post the feedback from August 18. Its an all new season and we look forward a fantastic 2019 across the Poker Fabric in India. See you at the felts!" said Manish Adnani, Delta Corp Business Head of Poker.
Once again, the biggest highlights of the series will be the 65K High Roller and the 35K Main Event featuring three flights – 1 A, 1B and 1C. Fans of high-roller action will be able to enter 65K buy-in High Roller NLH – a 2-day 8-Max event with 1 re-entry and 40K starting stack that runs from 8th to 9th February. While the event will feature 40-minute levels, its FT will have 60-minute levels on Day 2. The late registration has been extended till Level 12 Day 2 after the feedback from players.
The main event is slated to begin on 8th February and to run all the way until the last day of the series – 11th February. As mentioned, it will feature three flights- Day 1A, Day 1B and Day 1C with re-entry allowed for 1B and 1C flights. Day 1C will be a turbo structure with each level of 25 minutes. All levels for Day 2 and Day 3 will be of 45 minutes, except the FT that will feature 60-minute levels. Players will get a starting stack of 30K and the late registration will be open till level 10 of each flight.
On 10th February, our bounty lovers will be able to enter the INR 15K Bounty NLHE, which is poised to be a particularly exciting poker tournament as it is coming with 1 re-entry allowed this time.
Online Satellites, Contests, Packages & Pre-Registration!
Adding to the delight of players, Adda52 has rolled out multiple online satellites for DPT February 2019, running daily on adda52.com from 9th January to 6th February. Players can enter satellites with buy-ins starting at as low as INR 175 and going to INR 3500 for the 2 GTD DPT ME Satty every Sunday at 9 PM and INR 7500 for the DPT Super Satty every Thursday at 9 PM. The Super Satty is worth 1.5 Lac (4 tourney buy-ins + 10K flight & 10K stay). For satellite details, visit Adda52.com.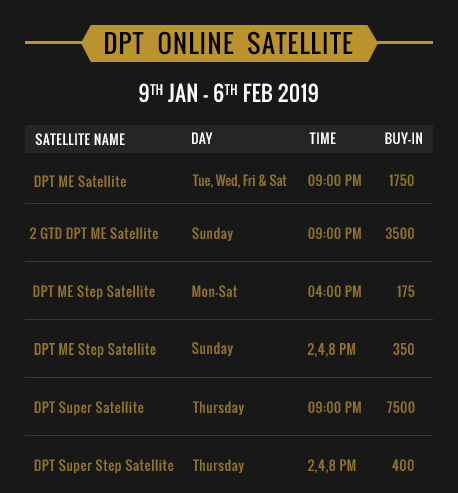 Like always, there will be some exciting contests giving players an opportunity to win free tickets to various events of the upcoming DPT edition. That is not all, all players participating in the Main Event and High Roller can avail the lucrative "Stay and Play" Package at Adda52live.com.
So, what are you waiting for? Pre-register for the upcoming DPT right HERE to avoid hassles and long lines at Deltin Royale! And watch out for free-ticket contests ahead on OPN/DPT Facebook pages!
DPT February 2019 Schedule: