The Ladies International Poker Series (LIPS) Tour Nevada State Ladies Poker Championship is in the books. Concluding at the South Point Casino in Las Vegas this Sunday, this was the first LIPS event hosted since the pandemic started. The 7-event series proved to be a successful festival. A total of 1,278 entrants competed in the 4-day long poker fiesta and $201,235 in prize money awarded.
The focal point of the series was the $275 buy-in Nevada State Ladies Poker Championship Main Event. The two-day main event overflowed the casino's tournament playing area, pulling in a record field of 317 entrants to collect a prize pool worth $74,495 that was shared by the top 45 players.
California's Mikella Pedretti came out on top of the 317-entry field to take top honors and the championship's winner's payday. The 39-year old Pedretti banked $11,999, the largest payday of her career. She eventually agreed to a 3-way ICM deal. The second place went to Nevada's Samantha Holmes for $10,414, while Las Vegas' Kristen Deardorff ended her run in third place for $8,874.
Pedretti started the FT in fourth place, well behind Holmes, who was the Day 2 chip leader. A key double-up early in the day pushed Pedretti high in the chip counts, and when the field finally came down to three, Pedretti, Holmes, & Kristen Deardorff agreed to chop the remaining prize money.
A thrilled Pedretti promises to play more poker and reinvest her winnings into the game.  "I've been itching and scratching waiting to get out again," She said after the grand win. "My vaccination came through, so I had this circled on my calendar. I'm just beyond the moon. I can't even believe it."
"It's so nice to play with women, to come out to this event and see all the support of women in poker," Pedretti said. "It's just been great, and to come out of it on top was just fantastic."
The top 45 shared the prize pool of $74,495, with Lauren Bunch (5th for $4,470), Ruth Hall (8th for $2,980), & Poker Hall of Famer Linda Johnson (25th for $559) being prominent names among them.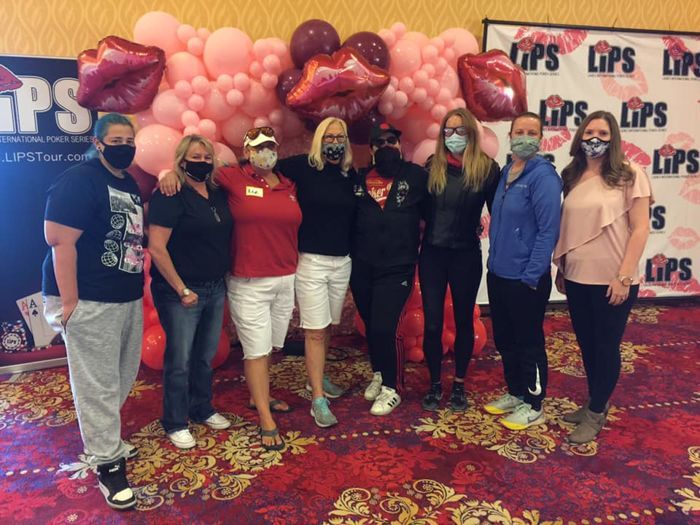 Final Table Payouts (USD)
Mikella Pedretti – $11,999*
Samantha Holmes – $10,414*
Kristen Deardorff – $8,874*
Elizabeth Medina – $5,587
Lauren Bunch – $4,470
DeeDee Cole – $3,725
Ruth Hall – $2,980
Dee Conroy – $2,235
Michelle Nastasis – $1,639