Want to grab life-changing prize money this Sunday? Well, the 1.5 Crore GTD DOPT Main Event is the tournament to play. Starting tonight at 8 PM, this is a multi-day tourney giving people a vibe of a live event and promising them an incredible value with a whopping INR 1.5 Crore in guaranteed prize pool at a buy-in of INR 11,000. A part of the ongoing 5 Crore GTD Deltin Online Poker Tournament (DOPT), the marquee tournament features 6 starting days, with Day 1A starting tonight at 8 PM.
Here Are The DOPT Main Event Dates:
Day 1A – 10th June (8 PM)
Day 1B – 11th June (8 PM)
Day 1C – 12th June  (8 PM)
Day 1D  – 12th June (10:30 PM)
Day 1 E – 13th June (1 PM)
Day 1F – 13th June (4 PM)
Finale  –  13th June  (9:45 PM)
 
The survivors from all the 6 flights will return for the event's epic Finale on 13th June at 9:45 PM to battle it out for the bragging rights of becoming the next DOPT Main Event and take home what will be a gigantic first-place prize. All flights pause at the end of Level 29 and all remaining stacks will be carried forward to the event's Finale on Sunday. Players start with a stack of 15K at 30-60 blinds. The late registration for this super-value tourney will remain open till the 23rd level on each starting day.
What India's Top Pros Have To Say?
There is a lot of anticipation building up for the DOPT Main Event and many top pros & regs from across the coutnry have already confirmed their participation in the upcoming extravaganza, including the WSOP bracelet winner and a three-time Adda52 Millions & Godfather champion Aditya Sushant, former Adda52 Team Pro and a four-time Adda52 Millions champion Kunal Patni, well-known poker pro & coach Abhishek Goindi, two-time Godfather and Big Slick winner Ashish Ahuja, this year's Mega Suits and Big Game champion Goonjan Mall & former Mega Suits champion Gagandeep Malik. Let us check out what they have to say about the DOPT Main Event.
Sharing his plans for the tourney, WSOP bracelet winner Aditya Sushant said, "So I'm planning on firing a few. Not got any fixed number or plans in mind. But I'd like to give myself a chance to make a run. 
 When asked about his favourites to win this tourney, Sushant said, "Favourites, I would say, are Gaurav Sood, Kartik Ved, Abhinav Iyer & Laksh Pal Singh, mostly just based on current form."
 Talking about the tourney, the banker-turned poker pro, Kunal Patni, said, " It's a very high-value event with a massive 1.5 Cr GTD. I haven't won big on Adda52.com for a long time and I am hoping that my time has come now." When asked about his favourites to win the tourney, Kunal said, "My favorites to win this are Rajat Sharma, Sriharsha Doddapaneni, Vaibhav Sharma and Raghav Bansal."
Sharing his excitement for the DOPT Main Event on Adda52.com, the lawyer-turned poker pro – Ashish Ahuja, said, " I'm really excited and looking forward to playing the tournament. During the pandemic, it's really tough as no live events can be hosted but Adda52 & Deltin have done a great job with coming up with an online series. It's great that they have multi-flight structure giving people the vibe of a live event where people get to play multiple Day 1's to carry forward largest stack bagged."
 Talking about his favourites to win the DOPT Main Event, Ahuja said, "I believe Gaurav Sood, Sriharsha Doddapaneni, and Ashish Munot being amongst the favourite to take it down."
This year's Mega Suits and Adda52 Big Game champion, Goonjan Mall said, "It should be a super fun event on Adda52.com. Since I'm playing, I'm backing myself to bag the trophy!"
We also managed a chat with the popular pro – Gagandeep Malik who has won several marquee tournaments on Adda52.com, including Mega Suits, WPT Monday Feature, AOPS Candolim, Inception, and The Mint to name a few. He said, "I think, it's a great structured multi-flight tournament and I will definitely be trying to make a good stack and take it to Day 2 and see how it goes from there. I think Goonjan Mall and Gaurav Sood would be my favorites to crush this tournament."
Satellites & Freerolls For DOPT Main Event
Adda52 has always worked towards promoting poker in India and has done a lot to make this event within reach of everyone. The site is offering multiple ways to win tickets to the mega multi-day tourney. Players can enter it directly at a buy-in of INR 11,000. Alternatively, they can compete in the INR 1100 buy-in satellites which will be running daily at multiple times till 13th June. Alternatively, they can play the INR 75 buy-in step satellites and stand a chance to enter the tourney for just INR 75.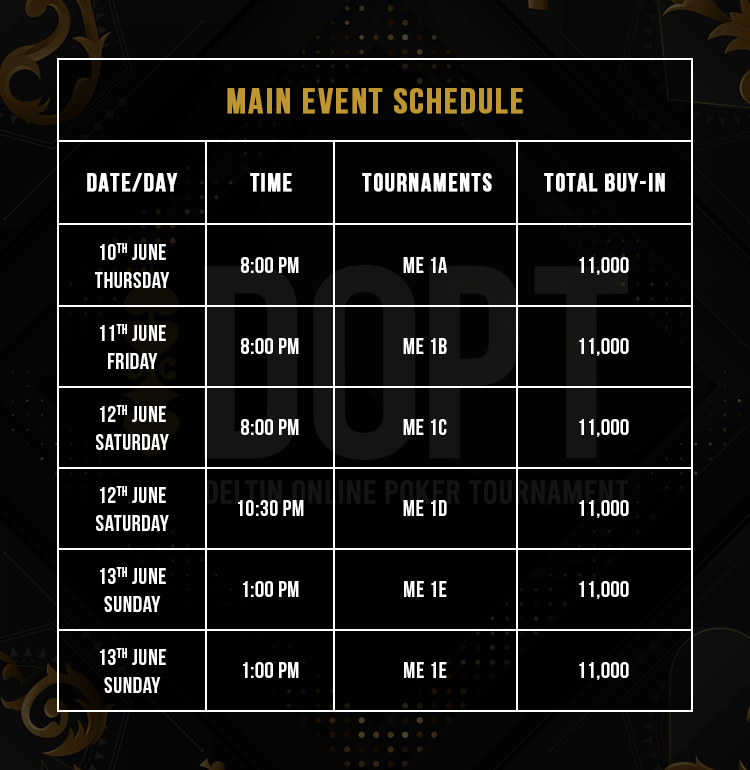 Who wants to invest when you can enter it for Free? Keeping that in mind, Adda52.com is hosting exclusive Daily Freeroll tournaments for the DOPT Main Event. With 6 freerolls in a day, play at your own convenient time and get ready to win from the massive 1.5 Crore GTD. 12 seats to be every day. Compete in Daily Freerolls to DOPT ME Satty and turn your dream of entering DOPT ME into reality.

What are you waiting for? Hurry! Enroll yourself to this huge opportunity and stand a chance to become the next DOPT Main Event champion. We wish you all good luck at the tables!