Running since 12th July and continuing through 24th July 2022, the Asian Poker Tour (APT) Summer Festival Hanoi 2022 – Vietnam Series of Poker (VSOP) is down to its last days with 18 of its scheduled 27 events already in the books. Team India has been making a huge splash at the series with four trophies already in their kitty. Just a few days after Sajal Gupta & Jude Praveen Kumar winning trophies, it is India's Siddarth Singhvi and Amit Kaushik making India proud. Singhvi was the last player standing in Event #16: Deep Stack Hyper Turbo and earned VND 88,130,000 (INR 3 Lac).

This was a side event with a buy-in of VND 4,400,000. It drew in a total of 85 entries and created VND 329,800,000 in prize pool that was shared by the top 15 finishers with a min-cash of VND 5,310,000. Walking away with the lion's share of the prize pool was Siddarth Singhvi (1st for VND 88,130,000).
Singhvi beat Nguyen Van Sang in heads-up to win the third title for India at the ongoing series. The final hand saw Singhvi with Kh Jh, which held up against Nguyen's Ks 4c on a board of Js 6c 9d 4d 6h.
There were three Indians finishing on the final table of this event, with DPT April 2022 Main Event winner Ankit Wadhawan (8th for VND 11,020,000 – INR 37,647) and Deepak Bothra (9th for VND 9,180,000 – INR 31,361)  being the other Indian pros making it to the final table of the event.
Final Table Results (VND)
Siddarth Singhvi – VND 88,130,000
Nguyen Van Sang – VND 58,760,000
Dang Duy Thanh – VVND 40,850,000
Phuong Xu – VND 29,500,000
Natthakit Suratin – VND 22,060,000
Le Xuan Huy – VND 17,030,000
Pham Truong Thu – VND 13,520,000
Ankit Wadhawan – VND 11,020,000
Deepak Bothra – VND 9,180,000
Amit Kaushik Wins India Another Deep Stack Turbo Title
Coming back to DPT April 2022 15K Bounty winner Amit Kaushik, he emerged as victorious in Event 18: Deep Stack Hyper Turbo where he overcame a field of 49 entrants, winning the fourth title for India at the ongoing series. He finally defeated Vietnam's Quang Vu (2nd VND 45,645,000) to win VND 50,645,000. Down to 6 players, Kaushik busted two players simultaneously with his As 6h trips overpowering Nguyen Dinh Hung's J-3 and Jeong Seon Han's Q-3 on a 6c Qs 6s 9h 7c board.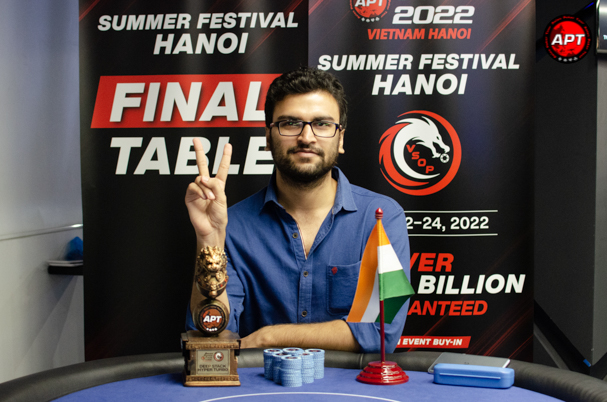 Kaushik continued his hot run and again knocked out two players in a single hand. Kaushik held Ad 9s against Se Han Park's Kd 10d and Myoung Joo Lee's 5h 5s. An ace on the board was enough for Amit to win the pot and enter the heads-up with a 4:1 chip advantage over Quang Vu. While the latter started on a deficit, he gave a tough fight and doubled up twice to even up. After a back and forth heads-up battle, the two players struck a heads-up deal. Eventually, Kaushik went on to take it down with his Ad 2d dominating Qh 2h of Vu who banked VND 45,645,000 for his runner-up finish.
This was a fast-paced event and wrapped up in just four hours. The event had a buy-in of VND 4,400,000 (US$ 188) and recorded 49 entries for a VND 190,120,000 (~US$ 8,105) prize pool. The top 9 places were paid out with Vamerdino Magsakay (9th for VND 6,020,000) being the first ITM player.  
Final Results (VND)
Amit Kaushik – VND 50,645,000*
Quang Vu – VND 45,645,000*
Se Han Park –  VND 26,770,000
Myoung Joo Lee – VND 19,340,000
Jeong Seon Han – VND 14,460,000
Nguyen Dinh Hung –  VND 11,160,000
Rei Onuki –  VND 8,860,000
Sungyoon Bae –  VND 7,220,000
Vamerdino Magsakay –  VND 6,020,000
Ankit Wadhawan Finishes Runner up In NLH Single Day Event
Team India came close to clinching its fifth title at the series, with DPT April 2022 Main Event third-place finisher Ankit Wadhawan narrowly missing out on the title in Event17: NLH Single Day. He finished runner-up (VND 97,130,000) to Tran Thanh Tung who banked a hefty VND 145,700,000 for his first-place finish. On the final hand, Tran held As Jd against Wadhawan's Ad Kc. Unfortunately for Wadhawan, the board ran out Qs 8s 6c Js 4d, giving a pair of jacks to Tran to ship the coveted title.

The NLH Single Day Event had a buy-in of VND 7,700,000 and drew in a 79 entries, generating  a prize pool worth VND 536,410,000 (US$ 22,870) that was finally shared by the top 14 finishers.
Final Table Payouts (VND)
Tran Thanh Tung – VND 145,700,000
Ankit Wadhawan –  VND 97,130,000
Jeon Byeong Cheol –  VND 67,530,000
Li Dinh Hung – VND 48,770,000
Dang Duy Thanh – VND 36,470,000
Le Dinh Hai – VND 28,150,000
Luong Viet Thai Duong –  VND 22,350,000
Gregory Kuhnast – VND 18,210,000
Tran Duc Son – VND 15,180,000