The moment you all have been waiting for is almost here! The most-awaited live poker series in India – Deltin Poker Tournament (DPT) – begins on 8th November at the luxurious Deltin Royale, Goa.

Powered by Adda52, DPT has come a long way since its inception in 2016 and is hugely popular, especially among poker players in the country. The main feature of the upcoming series is that it offers something for everyone with buy-ins starting at INR 15K. There are a total of 6 events spread over 7 days and you can kick-start your grind on a budget through live satellites to be a part of the marquee events of the DPT with much lower buy-ins. Yes, poker players can grind in live satellites to be held on 7th November at the Deltin Royale in Goa. Check out the details of the satellites HERE!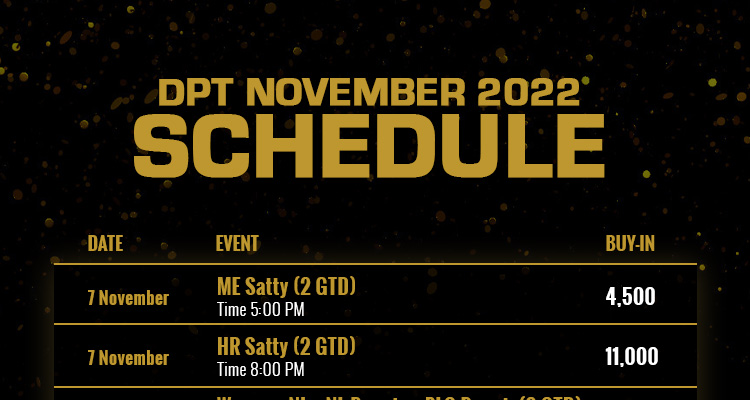 While the series will once again be headlined by the High Roller and Main  Event, it kicks off on 8th November with the INR 16.5K buy-in Warm-up No Limit Holdem, which is followed by the INR  25K buy-in NLH Bounty on 9th November. Up next on the schedule will be the 1.10 Lac buy-in High Roller, which is set to run from 10th – 11th November and attract the top pros from across the country. 12th November will mark the start of the much-awaited Main Event featuring INR 45K buy-in this time. The Main Event runs till 14th November. Ahead of the Main Event final day will be a 15K Women's Special event (13th November) to honor the passion of women for the game of poker in the country.
With the upcoming DPT just a couple of days away, we decided to look back at the previous edition that took place in April this year. Held from 14th to 19th April onboard Deltin Royale casino in Goa, the April 2022 edition was a record-breaking success. Featuring a whopping INR 2 Crore GTD prize pool, it received an overwhelming response from players, attracting more than 1800 entries and generating over INR 4.5 Crores in prize pools, making it the most successful edition in DPT history.
Let us look back at the winners and top highlights of the previous DPT edition held in April 2022!
DPT 11K Buy-in Warm-Up – Vaibhav Shah – INR 4.28 Lac
The previous DPT edition got off to a flying start on 14th April with the DPT 11K Warm-Up, drawing in an impressive 344 entries and generating INR 34.40 Lac in the prize pool that was shared by the top 63 players with a min-cash of INR 12,200. While we saw many pros in the field, walking away with the title and trophy was Mumbai's Vaibhav Shah who walked away with INR 4.28 Lac after a three-way deal with Avadh Shah (runner-up for INR 5.16 Lac), and  Kshitij Kucheria (3rd place for INR 5,03,500).
Shashank Murarka (4th for INR 1,61,400), Vishal Bajaj (5th for INR 1,61,400), Ishan Pandya (6th for INR 1,34,600), Ankit Waghmare (7th for 1,12,000), & Pranav Bagai (8th for 89,700) also FT-ed the event.
DPT 65K Buy-in High Roller – Aayush Arya – INR 36.64 Lac
While every event witnessed an impressive turnout, the biggest buy-in event of the series, the DPT 65K High  Roller, was a record-breaking success. The high-roller tourney registered a record 281 entries, more than doubling its GTD and building INR 1,65,86,025 in prize pool that was shared by the top 36 players. The high roller tourney came to a spectacular end with Delhi's Aayush Arya taking home the coveted title. Aarya earned a career-best INR 36.64 Lac and his first DPT trophy. Long-time poker pro Paawan Bansal placed runner-up to win INR 25,70,800 and the prestigious DPT trophy.
Also making it to the final table of this high roller were Bhavesh Patel (3rd for INR 16,53,600), Ranjeet Negi (4th for INR 12,24,000), Puttamsetty Rajsekhar (5th for INR 9,18,900), Siddhanth Kripalani (6th for INR 7,34,800), Goonjan Mall (7th for INR 6,10,400), and Jason Fernandes (8th  place for INR 4,89,300).
DPT Main Event 1.2 Crore GTD – Sumit Lalchandani –  INR 35.64 Lac
The DPT 35K Main Event also drew in a record 602-entry field across its one online flight and three live starting flights, surpassing its specified guarantee and creating INR 1,88,47,950 in the prize pool that got distributed among the top 72 players. Walking away with the coveted title and top prize was Sumit Lalchandani from Pune. He took home a career-best INR 35.64 Lac and his maiden DPT trophy. Sandeep Gupta placed runner-up and took home INR 25,10,600, plus the beautiful trophy.
DPT 15K Bounty – Amit Kaushik – INR 5.57 Lac
The fourth event on the schedule was the DPT 15K Bounty. Running on 17th April, it did also well drawing in 282 entries and generating a massive INR 25,23,900 in the prize pool that was shared by the top 36 players with a min-cash of INR 17,200. After several hours of intense battles, Amit Kaushik from Kurukshetra overcame the field to clinch his maiden DPT title and trophy. He finally outlasted Rajesh Rajpopat (runner-up for INR 3.91 Lac) in the heads-up battle to bank INR 5.57 Lac.
The other events at the previous DPT were shipped by Tushar Bharti (Won 15K PLO Bounty for INR 4.85 Lac), former DPT Xpress Main Event champion Anant Purohit (Won 15 Lac Freeroll for INR INR 3.30 Lac) & former Godfather winner Kanchan Sharma (Won 10K Women's Special for INR 92,400).
2 Crore GTD Big  Millions
Running alongside the DPT Women's Special was the final table of Adda52's 2 Crore GTD Big Millions where Bangalore-based 38-year-old Avinash 'avinkon' Koneru emerged as the champion. He bested a 1287-player to win a career-best INR 31 Lac and the beautiful trophy. Koneru had qualified via an INR 1,100 buy-in satellite and ended up shipping it. Bulusu Venkat Ram Narayana (2nd place for INR 22.73 Lac) & Himanshu Arora (3rd for INR 16.34 Lac) rounded out the podium finishers.
Just two days to go for the country's premier poker tournament series. Brace yourself for another exciting edition of DPT and #UpTheGame. Stand a chance to be the next DPT champion. Good luck!