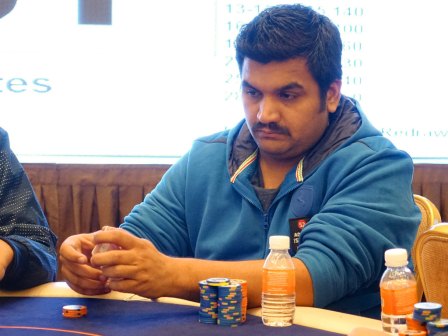 In the on-going Main Event of the World Poker Tour National, Philippines, Adda52 Team Spades pro Amit Jain has successfully made it to the Day 3 with 243,000 chips. 22 players survived from the Day 2 battle on Wednesday led by Norwegian player Markus Garberg with 674,000 chips. Team India was going strong at a time on Day 2 with Sameer Rattonsey, Vikram Kumar and 2 Team Spades pros Kunal Patni and Amit Jain in the field. However, only Amit Jain survived for the Day 3 action by the end of the day.
Kunal Patni built up one of the top 5 stacks on Day 2 but lost a huge pot when his Aces got cracked against an opponent hitting Flush on the river. Although it was a big damage to Kunal's stack, he reached in the money. In the final hand played against Yuen Wai Loong, Kunal Patni went all in with Tc7c on flop of Th9d8s (pair of tens, open-ended straight draw). Yuen Wai Loong showed 9s9h after calling for a set. The turn 4h, the river 7h meant Kunal getting eliminated in 24th place for PHP 161,300.
Players such as Linh Tran, John Tech, Lester Edoc, Sim Jae Kyung, SJ Kim, Pete Chen, and day 1b's chip leader, Chane Kampanatsaynakorn all fell in the Day 2 battle. 22 players remaining in the field includes some of the notables as in Kai Paulsen, Filipino player Marc Rivera and China's Cui Jia Bin.
India's hopes of the first ever Asian Main Event title now stays live with Amit Jain in the 22 players returning for Day 3. Although, Amit is among the short stacks with game resuming at 4,000/8,000/1,000 ante but the India's top pro can definitely pull it back from here with the entire Indian community rooting for him. Amit posted on facebook:


Day 3 of the Main Event will resume at 1pm today, January 7, 2016. The tournament will be played down to final table of 6 players.
Chip counts of 22 remaining players in the WPT National ME:
Markus Garberg – 674,000
John Niko Costiniano – 628,000
Louis Nyberg – 548,000
Jiabin Cui – 530,000
Kai Paulsen – 456,000
Andrei Kaigorodtcev – 429,000
Yuen Wai Loong – 384,000
Michael Tse Hua – 383,000
Alex Henry – 310,000
Samuele Moschetti – 307,000
William Kang – 302,000
Dennis Gamboa – 269,000
Marc Rivera – 261,000
Amit Roshanlal Jain – 243,000
Ying Lin Chua –  221,000
Martin Gonzales – 172,000
Kwangsuk Yuh – 156,000
Thomas Goh – 127,000
Terry Fan – 98,000
Soh Chee Wee – 76,000
Lita Hsu – 65,000
Takuya Yamashita – 37,000