Get ready for another heavyweight heads-up battle between the Poker Hall of Fame member Phil Hellmuth and the hotshot Tom Dwan as they are set to square off in High Stakes Duel III Round 4 set for May 12. Round 4 is the third high-stakes match between the legends with $800,000 on the line. Each player is putting $400,000 at stake, the highest level the heads-up has ever reached.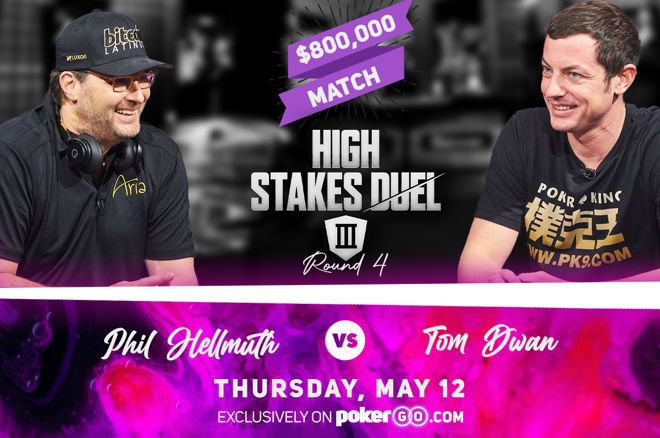 The 16-time WSOP bracelet winner Hellmuth has been on the top of his game in high-stakes heads-up battles over the last couple of years. He has won eight of his nine matches played so far on PokerGO's High Stakes Duel, including seven consecutive victories to start his magical run. For High Stakes Duel III, Hellmuth took on commentator Nick Wright and won $50,000 in Round 1. Wright declined a rematch,but Dwan stepped in to play and went on to end Hellmuth's mighty winning streak in August 2021 by cracking aces to win the $100,000 Round 2 match against "The Poker Brat."
Hellmuth challenged Dwan to a rematch shortly after, which happened in January this year. Hellmuth emerged victorious in the $200,000 Round 3 to win twice the money he previously lost.
There was a doubt if the two legends would go for a match again, but as expected, they would. Hellmuth was sure that Dwan would opt-in, saying, "I know you're rematching…this time for $800K."
As per the rules of the ongoing duel, the buy-in would double every match. A player can walk away if he wins three consecutive matches prior to Round 4, or two consecutive matches after Round 4.
With Dwan emerging victorious in Round 2, there will be a Round 5 no matter who takes down the upcoming heads-up match. The loser will have the first shot for a rematch, but if he decides to pass on, a new player will be invited to step in against the winner at the $800,000 buy-in price point.
In order to to walk away victorious, both Hellmuth and Dwan would need to win two consecutive matches ahead, starting with their May 12 showdown.
The Round 4 match will be aired on PokerGo beginning at 8:00pm ET. Remember that PokerGO is a subscription-only service and will cost money to watch the legendary duel, although the first hour of the match will be available for free on PokerGO's YouTube channel at youtube.com/PokerGO.
A Quick Look Back!
The High Stakes Duel began in 2020 with Phil Hellmuth versus Antonio Esfandiari. While the majority of poker community was rooting for Esfandiari, it was Hellmuth who dominated, notching up three-straight victories and sweeping 'The Magician' 3-0. Fresh off his million dollar heads-up duel with Doug Polk, Daniel Negreanu came in to play with Hellmuth in High Stakes Duel II. Again, the majority of poker fans rooted for 'Kid Poker' but it was not pretty either with Hellmuth sweeping Negreanu 3-0.
For High Stakes Duel III, Hellmuth took on sports talk show personality Nick Wright. As expected, Hellmuth won the $50,000 Round 1. Since Wright declined a rematch, Dwan stepped in to play and is now all set to square off with Hellmuth in High Stakes Duel III Round 4 scheduled for May 12.
Keep following Online Poker News (OPN) for more updates from the upcoming High Stakes Duel III!