The Poker Dream Vietnam 2022 series going on for the past five days at the Grand Hall of Hoiana Hotel & Suites in Quảng Nam, Vietnam is shaping up to be the richest in the region with over $1.1 Million paid out and 15 events still remaining. There are several Indian pros taking part in the series but the one who is making headlines is none other than the Adda52 Game Ambassador Kunal Patni. The banker-turned poker pro shipped the VND 10,000,000 ($409) buy-in Mystery Bounty on Day 5 of the series. He topped a 205-entry field, earning VND 60,000,000 in bounties and VND 247,750,000.
Patni has been doing pretty well on the live felts this year and this is his second live title of the year. He had earlier shipped the $300 Deepstack No-Limit Hold'em at the WPT Cambodia 2022 for $7,853.
Post his grand victory, Patni took to Instagram and shared the news. He first shared a picture of him on the final table and then posted a picture of him posing with the beautiful Mystery Bounty trophy.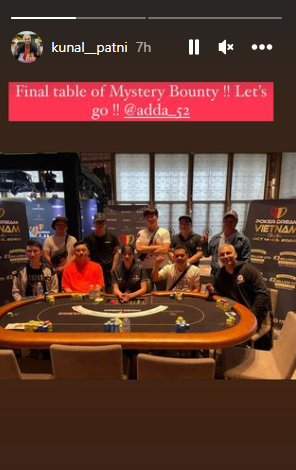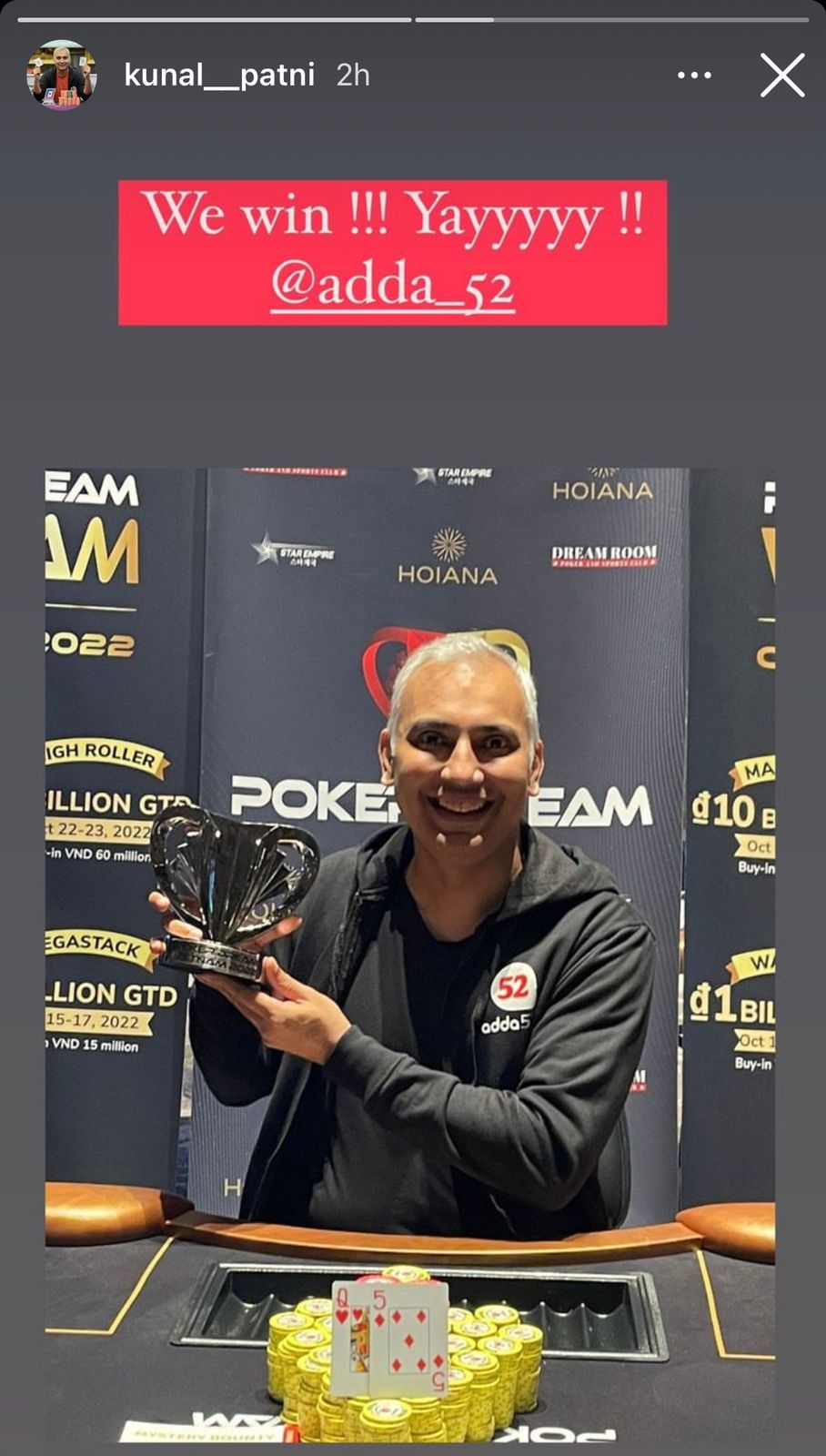 Patni defeated Le Ba Phuc in the heads-up, with the latter earning VND 177,500,000 in bounties and VND 167,300,000 for his runner-up finish. The final hand was a bluff by Phuc who pushed with 5c 10c on the 7s 8d 6s Qc 8c board. Patni tank-called with Qh 5d and won the pot to ship the title.
The Mystery Bounty was a two-day event that drew in 205 entries, building a prize pool of VND 1,174,650,000 and a bounty pool of VND 615,000,000. The top 31 reached ITM, earning them each a shot at winning the mystery rewards. Specific only to this festival, the top bounty reward worth VND 130,000,000 was reserved for the final table and that reward finally went to the runner up Phuc.
Final Payouts (VND) Without Bounties 
Kunal Patni – ₫247,750,000
Le Ba Phuc – ₫167,300,000
Nguyen Van Xuan – ₫117,900,000
Pang Cho Yi – ₫95,600,000
Elmer Kalaquian – ₫75,700,000
Yu Sheng Lin – ₫57,400,000
Low Chooi Loong – ₫41,900,000
Le Hoai Nam – ₫30,700,000
Le Huu Long – ₫25,400,000
Vu Duc Trung ₫21,500,000
Nguyen Huu Manh – ₫21,500,000
Hwang Seokjin – ₫19,300,000
Chokejindachai Napat – ₫19,300,000
Nguyen Duc Minh – ₫17,400,000
Nguyen Dich Khanh – ₫17,400,000
Theppot Natee – ₫15,600,000
Phanchapo Sutthipong – ₫15,600,000
Nguyen Kinh Huyen – ₫13,900,000
Suksomlert​ Taragon – ₫13,900,000
Siwat Singhsuttakorn – ₫13,900,000
Jonas Rothmund – ₫12,700,000
Nguyen Dieu Phuong Linh- ₫12,700,000
Edgar Asehan – ₫12,700,000
Kevin Kar Wai Ang – ₫11,500,000
Tran Duy Binh – ₫11,500,000
David Erquiaga – ₫11,500,000
Nguyen Thanh Hung – ₫11,500,000
Nguyen Trong Nghia – ₫10,400,000
Jose Colada – ₫10,400,000
Yee Siew Key – ₫10,400,000
Ha Duong – ₫10,400,00