The ongoing World Poker Tour (WPT) Prime Cambodia 2022 series is turning out to be a fantastic one for Team India with four trophies already in their kitty. Akshay Kapoor and Zarvan Tumboli became the third and fourth Indians respectively to win a trophy at the ongoing series. Following in the footsteps of Ashish Munot (NagaWorld SuperStack) & Kunal Patni (Deepstack NLH), Kapoor became the third Indian to a lift a trophy at the festival. He overcame a field of 128 entrants to win the No-Limit Hold'em Single Day event, claiming his first WPT title and banking the top $6,496 prize.
Kapoor, who moved to India from Australia during the lockdown, is known for his exploits on the virtual felts. This win marks his first live title in Asia and the third title for India at the ongoing series.
Talking to Somuchpoker about his victory, Kapoor said, "It feels great to finally win a live event. I normally grind online now but this is my first ever live series in Asia and I blinked my first trophy in just my fifth event! It feels great. This one goes out to my poker mentor Danish Sheikh who has a big role in shaping how I play today. Hope I can grab a few more trophies before the end of the series."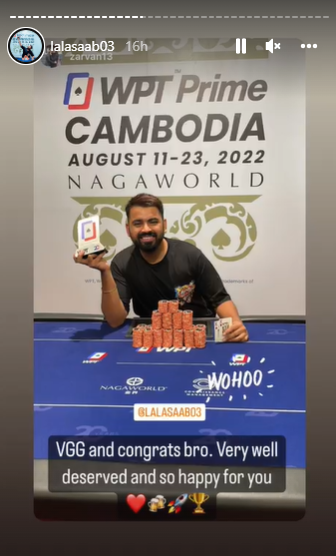 The $400 buy-in event drew 128 entries to generate a prize pool of $44,698. The top 16 were paid out with the final four players settling for an ICM deal and continuing to play for the title. Kapoor entered the heads-up with a decent chip lead. In the final hand, Kapoor's pocket kings bested USA's Scott Christopher Billups' Kc 5s on a dry board and he lifted the trophy and title for $6,496.

Apart from Kappor, several other Indians cashes this event including Dhaval Mudgal (11th, $1,140), Anmol Mehta (12th, $1,140) & Avneesh Munjal (15th, $995) also finished in the money at this event.
Zarvan Tumboli Takes Down WPT Pot Limit Omaha To Earn Fourth Trophy For India
Coming back to Spartan Poker pro Zarvan Tumboli, the inaugural WPT Prime series Main Event champion is back in the headlines, this time for winning a WPT trophy in a side event. He overcame a field of 94 entrants in the $300 buy-in WPT Pot Limit Omaha title to win him the $7,000 top prize and fourth trophy for India. He outlasted Tunisia's Selim Souissi who finally agreed to deal and award Tumboli the trophy. Tumboli held a huge chip lead with 1.6 million chips over Tunisia's Selim Souissi holding 400K. He agreed to the deal only on the condition that he would keep the trophy and title.
This is Tumboli's fourth international title this year, having shipped WPT Prime Vietnam 2022 Main Event, Asian Poker Tour (APT) Hyper Deep Stack Turbo event, and APT Hanoi Pot Limit Omaha Event.
Talking to Somuchpoker about his win, Tumboli said, "I'm pretty happy.This was my third consecutive PLO heads up and third PLO trophy. This is my forte. Against this field I was taking many spots and especially on the bubble; that's where I chipped up the maximum. I was a bit worried about the structure, I didn't want to get bad beat and bust, but the cards fell in my favor so here I am."

Like other events, this PLO event was another major attraction and drew in 94 entries, generating a prize pool of $ 24,619, which was shared by the top 12 places with a min-cash of $616. Apart from Tumboli, India's Ankit Jajodia also cashed this particular event, finishing 11th for a payout of $665.

WPT Pot Limit Omaha Payouts:
Zarvan Tumboli (India) – $7,000*
Selim Souissi (Tunisia) – $5,488*
Evgenii Chzhen (Russia) – $2,954
Hye Min Choi (Korea) – $1,908
Jun Hao Wu (Singapore) – $1,477
Jain Bhuvan (Singapore) – $1,169
Chun Chung Chan (Hong Kong) – $985
Ying Chang Chen (Taiwan) – $862
Weimei Cao (China) – $781
Wei Wen Thio (Singapore) – $714
Ankit Jajodia (India) – $665
Aun Jian Wong (Malaysia) – $616