For all the value hunters out there, the Full House is back in the town and it is coming with a bigger force this time. A four-day long tournament, it runs from 10th to 13th March 2022 on Adda52.com and promises you an insane value with a massive INR 1 Crore guarantee at a buy-in of just INR 5,500.
If the buy-in sounds a little steep for your bankroll, no worries. Adda52 is running a plethora of satellites to help you enter the Full House without shedding a lot from your bankroll. Players can play the INR 550 buy-in satellites and win a ticket for just INR 550. Adding to your delight are some exciting Freerolls, meaning you can play freerolls and expect to enter your dream tourney for FREE!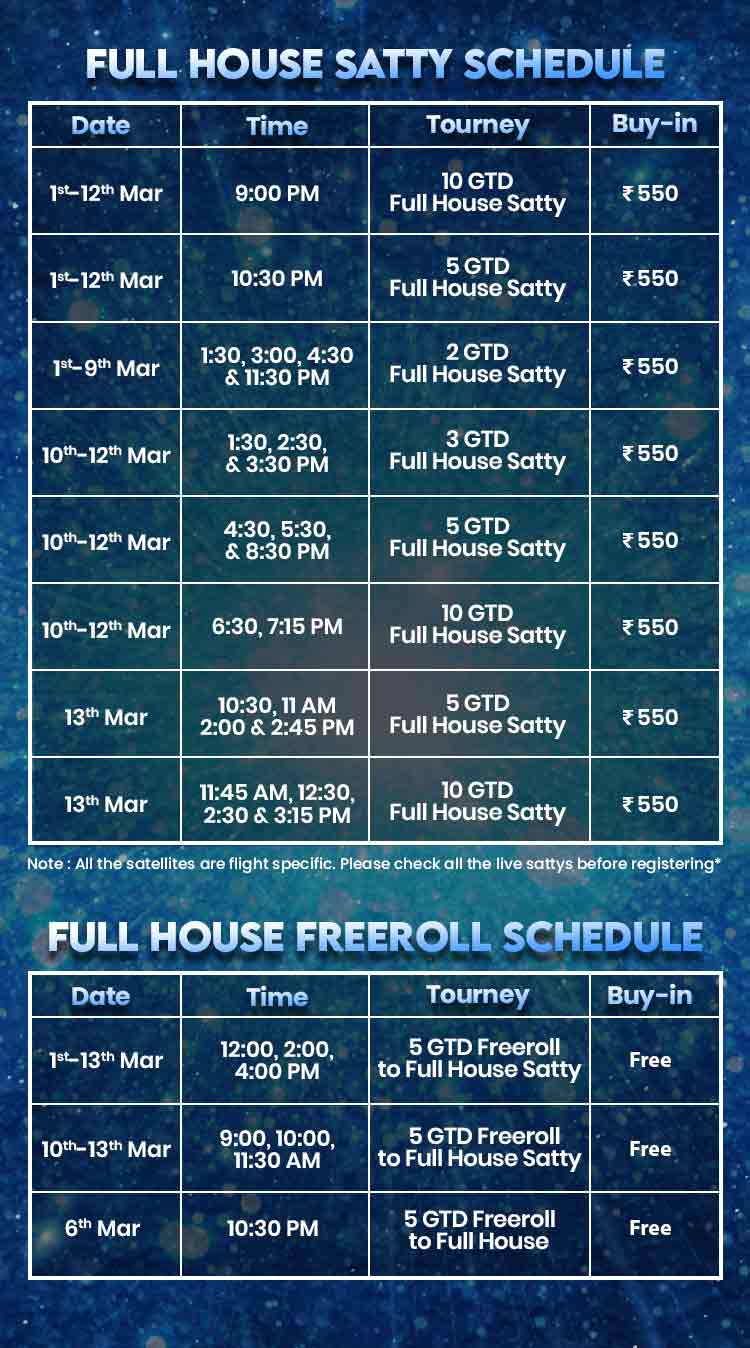 The Full House is a multi-day tourney starting with five flights: Day 1A (10th March), Day 1B (11th March), and Day 1C (12th March), which is followed by the final two starting flights (Day 1D & 1E) on 13th March. The tournament starts at 9 PM on all the days and the survivors from all the flights will return for the epic finale on 13th March at 10 PM to battle it out for the bragging rights of becoming the next Full House Finale champion and take home what will be a gigantic first-place prizemoney.
17 Champions Already Crowned & You Could Be The Next!
The Full House has been running for over the past two years and has become one of the most loved online tournaments offered by Adda52. A very popular tournament, Full House, was first hosted by Adda52 in April 2020. It was a tremendous success as the tournament had posted more than INR 1.25 Crore prizepool on the back of massive field of 2500 + entries. The 32-year-old Bengaluru-lad Chirag Sodha had run past the field to win the first-ever Full House for a career best INR 25 Lac.
"Full house is a good tournament which offers big prize money at a low buy-in (INR 5500)… I think it is great for the poker industry to have such online tournaments. Multi-day tournaments are becoming very popular. Also, I love the fact that you cannot take the five stacks forward to Day 2 and you can only take your biggest stack forward… I am all for that process," said Sodha  after his inaugural Full House win.
The second Full House that played out in the first week of May was taken down by the CA turned poker pro Deepak Bothra who bested a field of 2000 + entries to win it for a hefty INR 20 Lac.
Another Full House tourney held in May 2020 found a champion in Surbhit Grover who defeated a reg-laden field of 1927 entries including WPT Vietnam Champion Dhaval Mudgal in the heads-up to take it down for a massive INR 20 Lac. May also saw two more Full House tournaments and they were taken down by Srihari Bang (Won INR 25 Lac) and Md Zeeshan (Won INR 25 Lac) respectively.
The other Full House champions crowned in 2020 included Sanat Mehrotra (Won INR 25 Lac- June), Anurag Sangahi (Won INR 21 Lac – June), Rohit Vaswani (Won INR 21 Lac – June), Siddarth Singhvi (WonINR 21 Lac -July), Apoorva Goel (Won INR 21 Lac – July), Dhinesh Kumar (Won INR 25 Lac – August), Shagun Jain (Won INR 25 Lac – August), Sonu Rathode (Won INR 22 Lac – September), Akash Gupta (Won INR 22 Lac – October), and Kushal Sogani (Won INR 22 Lac – October).
There were only two Full House tourneys held in 2021. The first of the two took place in February and crowned a champion in Devrat Singh who banked a massive INR 21 Lac. The second Full House of 2021 ran in March and found a champion in Sahil Thadani who took home INR 18.16 Lac.
In total, 17 champions have been crowned so far and you could be the next? So, don't miss the next Full House running  on Adda52.com from 10th – 13th March 2022. See you. Good luck at the tables!